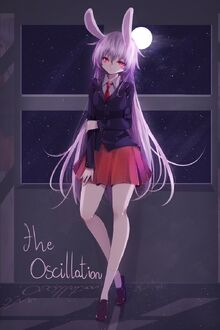 The Oscillation Wiki Glossary
Introduction
The Oscillation is an ongoing Fantasy Lit-RPG web serial that takes place in the real world. In 2019 there is a massive event that occurs across the globe that alters the biology of 1/250th of the earth's population and introduces a hidden background gaming system. You primarily follow Rachel, a nineteen-year-old college student with a rather strict family. She's instantly changed into a Lunar Hare, causing her life to be flipped upside down as Martial Law is instituted and the CDC is mobilizing.  
Summary
It was an average day in Miami—then fractures in the sky appeared. A pulse from those cracks altered the population; some people's biology changed while others received magical and supernatural powers. After the chaos, the political drama ensued, followed by the discovery of portals that brought deadly creatures. They called this event "The Oscillation" and it changed Rachel's life forever.
Links
Serial Links:
Cast
Main Characters:
Supporting Characters:
Nam Park - Rachel's Brother
Alexa Park - Rachel's Sister-In-Law
Rachel's Dad
Rachel's Mom
Cousin Soo-geun - Rachel's cousin; Bear Beastkin
Nora - Fiona's 18 years old little sister
Cloe
Zoe
Felix Espinar - Maria's Younger Brother
Julia
Doctor Richard Raynott
Erica Kohne
Maria's Gang
Green Berets:

Mateo Garcia Herrero (Captain)
Cameron
Roger
Oliver
Chad
Roy
Vincent
Matthew

National Guard:

Logan Flores (Senior Chief Petty Officer)
Mike - arm-wrestled Rachel

Navy Seals:

Captain Jerry
Chief
Falcon
Bluebird
Jolo
Tecker
Keven
Oliver
Vinny
Honey
Max
Donner
Bean
Earwig
Tacker
Villains:
Carter's Gang:

Carter
Henry
Carlos
Ronny
Ivania
Jose
Farid
Aldo
John
Sangita
George

Scarlet Cult:

Adele Johnson - Scarlet's Mother
Jeremy Johnson - Scarlet's Father †
Joanna †
Florance †
Kyle †
Kris †

Miami Gang:

Terrell
Marcus
Daran
Harris - Poison Gas
Hespanic Woman - Lightning
Kappa-guy
Banner
Hanna
Briana
Corey
Caleb - Man firing the tank round
Pete - Killed 43 people
Tony - Killed at least 30 people
Randy - Was on the gun atop the tank that Rachel destroyed
Antonio
Rodney
Anthony - With the tank group; told by Terrell to check out the supermarket

Contractors:
Other:

Seattle Vampire
Mr. Kennedy
People Saved:
Gang Incident Event:
Scarlet's Change Event:
Kid Heroes:

Greg (Raven)
David (Image)
Laura
Thomas
Other:
Fiona's Youtube Chat
Ms. Franklin - Next door neighbor to Scarlet
Brion
Krystal - CDC volunteer lady that was in charge of Rachel's classroom
Greg - Doctor that drew Rachel's blood
Kelsey - Volunteer for humanitarian efforts
Mr. Huckly - Supervisor of the humanitarian aid of Uplift Inc.
Barbra - Sued Fiona for defamation
The Oscillation
The Oscillation Event
The System
Rifts
Changed Races:
Mostly known as Demi-Humans, Demis, for short.[1]
Beastkin: People that changed to represent some kind of animal or creature.
Champions: People that look like humans, but have their own skill trees. Known types:
Aberrantkin: People like the Slime, and possibly the demon-girls seen at the hospital.
Faekin: People like elves and giants might be a part of this branch.
Mythickin: People that changed to represent some kind of mythical creatures.
Legendkin: People that changed to represent some kind of legendary figure.
Locations
Visited By Main Cast:
Rachel's Dormroom
Miami University
Baptist Hospital of Miami
Mary Brickell Village
South Beach
Publix Super Market at Fifth and Alton
Murano Grande - Where they first teleported into South Beach
Royal Atlanic Condominium - Rachel and Fiona first met Relica
The Savory Hotel: South Beach - Where Terrell and gang consolidated to
Mentioned:
University of Michigan Hospital
Seattle
Nymph's World Tree
American Airlines Arena - Military forward base
Clifend, Ireland - Fiona's family lives; Gaeilge taught as a first language
Organizations
Government:
Armed Forces:
Army
National Guard
Police
Humanitarian Aid:
Uplift Inc.
Moonlight (Gekkō)
Tempest
References