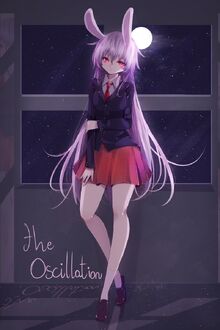 The Oscillation Wiki Glossary
Introduction Edit
The Oscillation is an ongoing Fantasy Lit-RPG web serial that takes place in the real world. In 2019 there is a massive event that occurs across the globe that alters the biology of 1/250th of the earth's population and introduces a hidden background gaming system. You primarily follow Rachel, a nineteen-year-old college student with a rather strict family. She's instantly changed into a Lunar Hare, causing her life to be flipped upside down as Martial Law is instituted and the CDC is mobilizing.  
Serial Links: Edit
Main Characters: Edit
Supporting Characters: Edit
Nam Park - Rachel's Brother
Alexa Park - Rachel's Sister-In-Law
Rachel's Dad
Rachel's Mom
Cousin Soo-geun - Rachel's cousin; Bear Beastkin
Nora - Fiona's 18 years old little sister
Cloe
Zoe
Felix Espinar - Maria's Younger Brother
Julia
Doctor Richard Raynott
Erica Kohne
Maria's Gang
Green Berets:

Mateo Garcia Herrero (Captain)
Cameron
Roger
Oliver
Chad
Roy
Vincent
Matthew

National Guard:

Logan Flores (Senior Chief Petty Officer)
Mike - arm-wrestled Rachel

Navy Seals:

Captain Jerry
Chief
Falcon
Bluebird
Jolo
Tecker
Keven
Oliver
Vinny
Honey
Max
Donner
Bean
Earwig
Tacker
Villains: Edit
Carter's Gang:

Carter
Henry
Carlos
Ronny
Ivania
Jose
Farid
Aldo
John
Sangita
George

Scarlet Cult:

Adele Johnson - Scarlet's Mother
Jeremy Johnson - Scarlet's Father †
Joanna †
Florance †
Kyle †
Kris †

Miami Gang:

Terrell
Marcus
Daran
Harris - Poison Gas
Hespanic Woman - Lightning
Kappa-guy
Banner
Hanna
Briana
Corey
Caleb - Man firing the tank round
Pete - Killed 43 people
Tony - Killed at least 30 people
Randy - Was on the gun atop the tank that Rachel destroyed
Antonio
Rodney
Anthony - With the tank group; told by Terrell to check out the supermarket

Contractors:
Other:

Seattle Vampire
Mr. Kennedy
People Saved: Edit
Gang Incident Event:
Scarlet's Change Event:
Kid Heroes:

Greg (Raven)
David (Image)
Laura
Thomas
Fiona's Youtube Chat
Ms. Franklin - Next door neighbor to Scarlet
Brion
Krystal - CDC volunteer lady that was in charge of Rachel's classroom
Greg - Doctor that drew Rachel's blood
Kelsey - Volunteer for humanitarian efforts
Mr. Huckly - Supervisor of the humanitarian aid of Uplift Inc.
Barbra - Sued Fiona for defamation
The Oscillation Edit
The Oscillation Event Edit
The System Edit
Changed Races: Edit
Mostly known as Demi-Humans, Demis, for short.[1]
Beastkin: People that changed to represent some kind of animal or creature.
Champions: People that look like humans, but have their own skill trees. Known types:
Aberrantkin: People like the Slime, and possibly the demon-girls seen at the hospital.
Faekin: People like elves and giants might be a part of this branch.
Mythickin: People that changed to represent some kind of mythical creatures.
Legendkin: People that changed to represent some kind of legendary figure.
Locations Edit
Visited By Main Cast: Edit
Rachel's Dormroom
Miami University
Baptist Hospital of Miami
Mary Brickell Village
South Beach
Publix Super Market at Fifth and Alton
Murano Grande - Where they first teleported into South Beach
Royal Atlanic Condominium - Rachel and Fiona first met Relica
The Savory Hotel: South Beach - Where Terrell and gang consolidated to
Mentioned: Edit
University of Michigan Hospital
Seattle
Nymph's World Tree
American Airlines Arena - Military forward base
Clifend, Ireland - Fiona's family lives; Gaeilge taught as a first language
Organizations Edit
Government: Edit
Armed Forces: Edit
Army
National Guard
Police
Humanitarian Aid: Edit
Uplift Inc. Edit
Moonlight (Gekkō)
Tempest
References Edit
↑

B3 — 11. The Plan
Community content is available under
CC-BY-SA
unless otherwise noted.